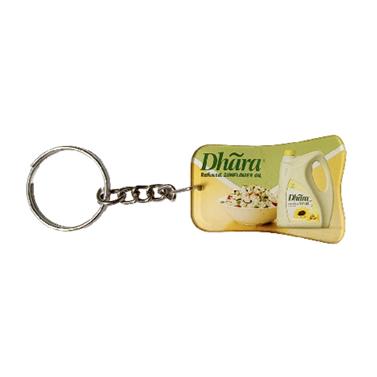 Minimum order quantity 500 pcs.
For 500 quantity 8.20 Rs
For 1000 quantity 8.00 Rs
For 2000 quantity 7.85 Rs
For 3000 quantity 7.70 Rs
For 5000 quantity 7.55 Rs
For 10000 quantity 7.40 Rs
18 % Gst extra, delivery charges extra.
Product Description
Introducing our custom Promotional Acrylic Photo Keychains, a versatile and eye-catching way to capture memories and promote your brand simultaneously. These keychains are the perfect fusion of practicality and personalization, making them an ideal choice for businesses, events, and individuals looking to create lasting impressions.
Why Choose Acrylic Photo Keychains
1. Memorable Keepsakes : Acrylic photo keychains offer a unique and stylish way to display cherished memories. Whether it's a family photo, a snapshot of a special event, or a beloved pet, these keychains allow you to carry your favorite moments with you wherever you go.
2. Endless Customization : With our user-friendly customization tools, you have the freedom to design your keychain exactly as you envision it. Upload your photos, add text, logos, and choose from a variety of shapes and sizes to create a keychain that perfectly represents your brand or personal style.
3. Durable and Long-Lasting : Made from high-quality acrylic, these keychains are built to withstand daily wear and tear. The clear acrylic not only protects your images but also provides a polished, professional look that will stand the test of time.
4. Promotional Potential : Businesses can leverage these keychains as powerful promotional tools. Print your company logo, contact information, or a QR code that links to your website to increase brand visibility. Hand them out at trade shows, conferences, or as customer appreciation gifts to leave a lasting impression.
5. Cost-Effective : Our acrylic photo keychains offer an affordable way to make a big impact. Whether you're ordering in bulk for a marketing campaign or getting a single keychain for personal use, you'll find our prices competitive and budget-friendly.
6. Great for Gifts : These keychains make for thoughtful and personalized gifts for friends, family, or colleagues. Whether it's a birthday, anniversary, or holiday, the recipient will appreciate the effort and sentiment behind such a thoughtful gift.
7. Quick Turnaround : We understand the importance of efficiency. We strive to provide fast turnaround times without compromising on quality, ensuring that you receive your personalized keychains promptly.
Order Your Promotional Acrylic Photo Keychains Today
At [Your Company Name], we are committed to helping you create unforgettable memories and promote your brand with our custom acrylic photo keychains. Our easy-to-use design interface and high-quality printing ensure that you'll be thrilled with the final product.
Whether you're looking to celebrate cherished moments or enhance your brand's visibility, our acrylic photo keychains are the perfect solution. Order today and experience the joy of carrying your memories and message with you wherever you go.