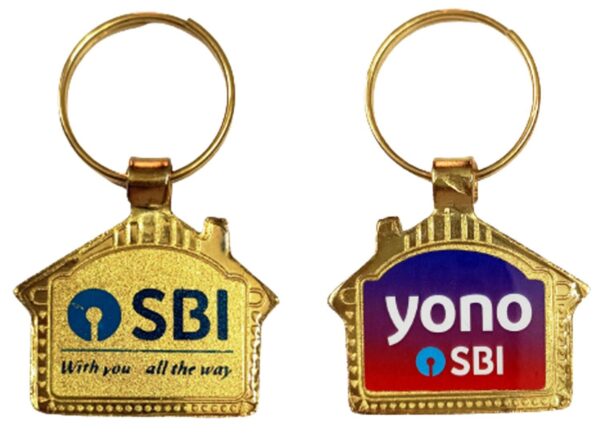 – Minimum Order Quantity: 500 pieces
– Pricing (per piece):
– 500 quantity: Rs 9.10
– 1000 quantity: Rs 8.90
– 2000 quantity: Rs 8.70
– 3000 quantity: Rs 8.50
– 5000 quantity: Rs 8.30
– 10000 quantity: Rs 8.10
– 20000 quantity: Rs 7.90
**Additional Details:**
– 18% GST (Goods and Services Tax) will be applied extra.
– Delivery charges will be incurred separately.
– Graphic Design Charges: Rs 100 (waived for orders of 1000 or above)
Product Description
Introducing a remarkable fusion of artistry and innovation – our Promotional Golden Digital Photo Meena Metal Keychains. Crafted to perfection, these keychains are more than just accessories; they are vessels that hold your most treasured memories.
Imagine having the ability to carry a piece of your favorite memory wherever you go – be it a candid snapshot, a family portrait, or an unforgettable vacation. With our advanced digital printing technology, we can bring your chosen photo to life in stunning detail and vibrant colors, preserving the essence of that moment forever.
But it doesn't stop there. The keychains are encased in a lustrous golden finish that exudes sophistication and elegance. The real showstopper, however, is the intricate meena work that adorns the edges. This traditional art form adds a touch of opulence and a sense of heritage to the keychain, making it a unique and eye-catching accessory.
Crafted with the utmost attention to detail, our keychains are built to withstand the test of time. The durable metal construction ensures that your memories remain intact, whether they're dangling from your keys, attached to your bag, or gracing your rearview mirror.
These keychains transcend their utilitarian purpose and become conversation starters, tokens of affection, and reminders of the moments that shape our lives. They make for exceptional gifts, whether you're celebrating a milestone, expressing gratitude, or simply showing someone you care. And for businesses, they offer an unparalleled opportunity for promotion – imagine your brand logo and message captured in the same high-quality digital print, accompanied by the elegance of meena work.
The Promotional Golden Digital Photo Meena Metal Keychains offer a seamless blend of modern technology and traditional craftsmanship. They're a testament to the fact that the past and the future can harmonize beautifully, resulting in a product that is as functional as it is sentimental.
Elevate your keepsake game and transform your memories into timeless works of art. Order your Promotional Golden Digital Photo Meena Metal Keychains today and carry your cherished moments with you, wherever you go.