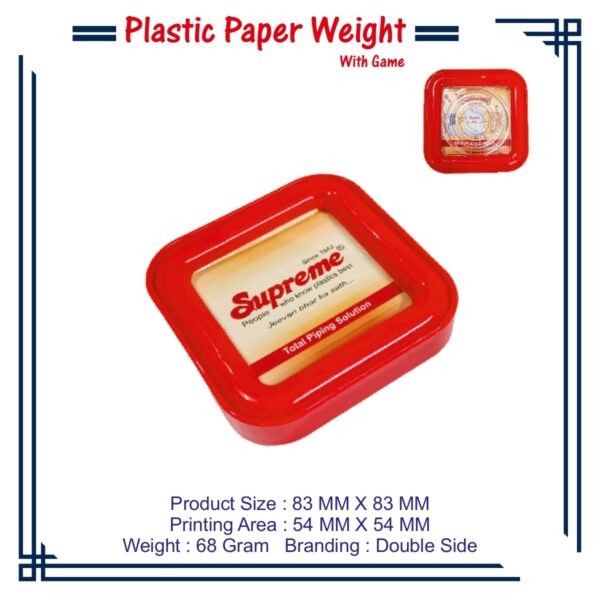 Inclusive Branding Pricing:
– Quantity Range: 100 – 299 units | Price: Rs 35 per unit
– Quantity Range: 300 – 499 units | Price: Rs 33 per unit
– Quantity Range: 500 – 1999 units | Price: Rs 31 per unit
– Quantity of 2000 and above | Price: Rs 29 per unit
Additional Charges:
– An additional 18% GST will be applied to the total.
– Packaging and forwarding charges are applicable.
Please be aware:
– The Minimum Order Quantity is 100 pcs.
Product Description
Introducing our innovative promotional product designed to enhance your workspace and bring a touch of fun to your daily routine – the Plastic Paper Weight with Game! This unique item combines functionality with entertainment, making it a must-have addition to any office or home office setup.
Key Features:
1. **Dual Functionality:** Our Plastic Paper Weight serves as a practical tool to keep your important documents organized and in place. Its sturdy construction ensures that your papers remain neat and tidy, preventing them from getting misplaced or scattered.
2. **Built-In Game:** What sets our Paper Weight apart is the built-in game feature. Take a short break from your tasks and challenge yourself to a quick and engaging game right at your desk. Whether it's a maze, a puzzle, or a simple strategy game, this feature adds a touch of enjoyment to your workday.
3. **Durable Material:** Crafted from high-quality plastic, our Paper Weight is not only lightweight but also highly durable. It's designed to withstand daily use and is built to last, ensuring long-term usability.
4. **Sleek Design:** The sleek and modern design of the Paper Weight seamlessly blends with any workspace decor. Its minimalist aesthetic adds a touch of elegance while contributing to an organized and clutter-free environment.
5. **Promotional Opportunity:** Customize the Paper Weight with your company logo, slogan, or any other branding elements. This offers a great opportunity to increase brand visibility among your clients, partners, and employees, making it an ideal promotional giveaway.
6. **Employee Engagement:** Encourage a positive work culture and promote team bonding by incorporating the Paper Weight's game into short breaks or team-building activities. It's a fantastic way to foster creativity, collaboration, and relaxation within the office.
7. **Versatile Gift:** The Plastic Paper Weight with Game isn't limited to just the office setting. It also makes for an excellent gift for clients, employees, or anyone who appreciates a touch of leisure during their work hours.
Elevate your workspace by adding a touch of functionality and entertainment with our Plastic Paper Weight with Game. Experience the benefits of staying organized while enjoying moments of relaxation and fun throughout your busy day. Get ready to enhance your work environment and create a lasting impression with this one-of-a-kind promotional product.