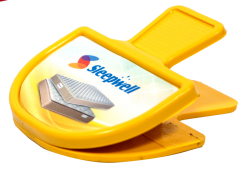 Minimum Order Quantity 200
Gst Extra 18%,
Rates for 200 — 19 Rs
Rates for 500 — 18 Rs
Rates for 1000 — 17 Rs
Rates for 2000- 16 Rs
Gst 18 % Extra, Packing and Forwarding Extra.
Packing And Forwarding Extra
Product Description
Introducing our innovative and versatile Promotional Paper Clip – a game-changing office accessory that not only organizes your documents with finesse but also elevates your brand presence in a stylish and functional manner.
Crafted with precision and designed for both form and function, our Promotional Paper Clip is an indispensable tool for any professional or student. Its sleek and contemporary design ensures that it doesn't just hold your papers together; it also makes a statement about your commitment to quality and excellence.
Key Features:
1. High-Quality Materials : Our Promotional Paper Clip is constructed from premium, durable materials to ensure it stands the test of time. Crafted with a combination of stainless steel and a polished finish, it exudes a professional and sophisticated charm.
2. Versatility : This paper clip isn't limited to simply holding sheets of paper. It can also be used to secure important documents, mark pages in books, or even as a bookmark for your favorite novel. Its versatility knows no bounds, making it an essential tool for any setting.
3. Customization : Elevate your brand identity by personalizing these paper clips with your company's logo, slogan, or custom message. Imprint your corporate insignia and create a lasting impression every time these paper clips are used.
4. Practicality : The Promotional Paper Clip is designed with convenience in mind. Its ergonomic design allows for easy handling and attachment, ensuring that your documents stay organized and presentable.
5. Gift-Worthy : These paper clips are the ideal gift for clients, employees, or colleagues. They demonstrate thoughtfulness, attention to detail, and a commitment to quality – values that your business embodies.
6. Promotional Tool : Distribute these paper clips at trade shows, conferences, or corporate events to increase your brand's visibility. They serve as a constant reminder of your company's dedication to professionalism and excellence.
7. Eco-Friendly : We care about the environment. The Promotional Paper Clip is made from recyclable materials, reflecting your brand's commitment to sustainability.
The Promotional Paper Clip is more than just an office accessory; it's a symbol of your commitment to quality, professionalism, and innovation. Make a lasting impression and stand out from the crowd with this versatile and beautifully designed promotional item. Whether used in the office, at home, or in educational settings, our Promotional Paper Clip is the perfect choice for those who value organization, style, and brand representation.
We are specialization in Paper clip 
Print Area – [41×68 mm = 4.1×6.8 cm = 1.62×2.68 inch]
Product Size – [70×180 mm = 7.0×18.0 cm = 2.76×7.09 inch]