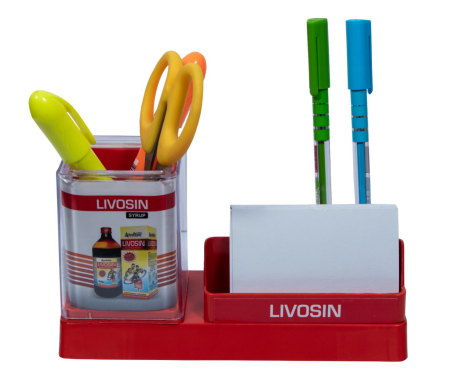 Pricing with Branding: (Inclusive of Box Packing)
– 100 quantities: Rs 95 each
– 200 quantities: Rs 93 each
– 300 quantities: Rs 91 each
– 500 quantities: Rs 89 each
Additional Information:
– 18% GST will be added.
– Delivery charges are not included.
– Minimum Order Quantity: 100 pieces.
Product Description
Introducing our eye-catching Red Promotional Pen Stand, a versatile accessory designed to boost your brand's visibility. Crafted in a striking red hue, this pen stand offers a distinctive six-sided shape that sets it apart from the ordinary.
What sets this pen stand apart is the opportunity for digital branding. We understand the importance of your brand identity, which is why we offer customizable digital imprinting on all six sides of the stand. This means that not only will your logo be prominently displayed, but you also have ample space to convey your brand message, contact information, or even a tagline.
Beyond its branding potential, this pen stand serves as an excellent organizational tool for any workspace. Keep your writing instruments neatly arranged and within arm's reach, all while showcasing your brand's identity. The vibrant red color adds a touch of vibrancy to your surroundings, making your desk not only functional but also aesthetically pleasing.
Whether placed in an office, reception area, or trade show booth, our Red Promotional Pen Stand is sure to catch the eye of passersby. It's a tangible representation of your brand's values and professionalism, leaving a lasting impression on anyone who encounters it.
Choose our Red Promotional Pen Stand with six-sided digital branding to make a bold statement about your brand's identity and commitment to excellence. Order now and let your brand shine from every angle.
Product Size 65 MM X 180 MM — Print Area — 70 MM x 200 MM
This is fragile item.