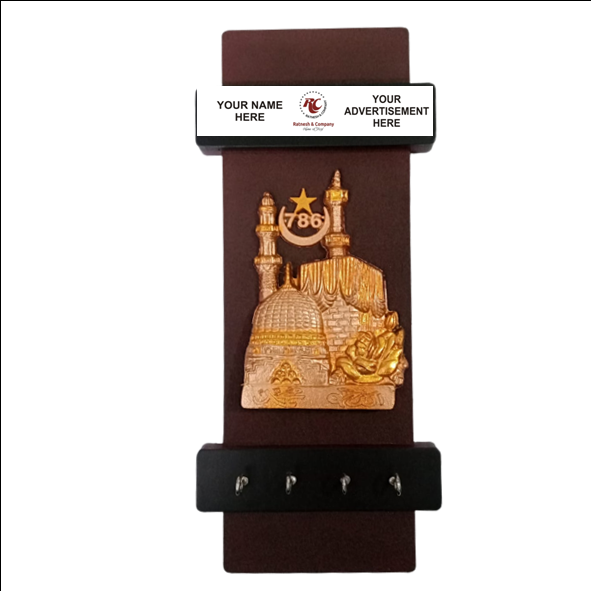 Special Painted By Gold and Cooper

Minimum Order Quantity 50
Price With Advertising 100 Rs
18% Gst Extra,
Packing and Forwarding Extra
Above given Rate Is ex Rate.
Product Description
Introducing our exquisite Wall Hanging of Makka Madina with 3-Hook Key Hanger, a perfect fusion of art, spirituality, and functionality. This beautifully crafted piece celebrates the sacred cities of Makka and Madina, capturing the essence of Islamic culture and devotion.
The wall hanging features a stunning depiction of the iconic Kaaba in Makka and the majestic Al-Masjid an-Nabawi in Madina. Meticulously designed, every intricate detail is brought to life, ensuring an authentic representation that resonates with believers and admirers alike.
Made from high-quality materials, this wall hanging exudes durability and elegance. The carefully chosen colors and textures enhance the overall aesthetic, creating a visually captivating masterpiece. Whether you choose to display it in your home, office, or any space close to your heart, it will undoubtedly add a touch of beauty and serenity.
In addition to its artistic value, this wall hanging also serves a practical purpose. It features three sturdy hooks, thoughtfully incorporated into the design, providing a convenient solution for organizing your keys. Never misplace your keys again as you hang them securely on this functional and decorative accessory.
Ideal as a thoughtful gift or a personal indulgence, the Wall Hanging of Makka Madina with 3-Hook Key Hanger caters to individuals seeking a balance between spirituality, aesthetics, and practicality. It symbolizes the bond between faith and everyday life, reminding us of the sacredness of our beliefs while offering a practical solution to a common problem.
Embrace the beauty of Islamic art and the significance of Makka and Madina with this remarkable wall hanging. Let it inspire and uplift you as it combines spiritual devotion with modern functionality. Bring a piece of the sacred cities into your living space and enjoy the tranquility it brings to your everyday life.
Product Size :  33.02 cm x 22.86 cm
Made In India
Made By Fiber
Special Painted By Gold and Cooper