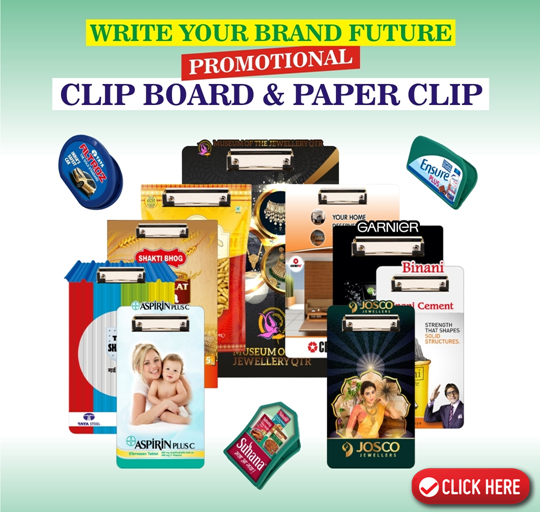 Discover our wide range of promotional clipboards and paper clips, designed to elevate your brand promotion efforts.
Our high-quality clipboards provide a practical solution for organizing documents, while our durable paper clips help keep your paperwork secure. With the option to showcase your logo or custom design, these promotional items offer an excellent opportunity to enhance brand visibility.
Choose our promotional clipboards and paper clips to showcase your brand's professionalism and attention to detail. Browse our collection today and make a lasting impression with these functional and branded office essentials.
Explore Product Details and Pricing by Clicking on the Image. Hindi: छवि पर क्लिक करके उत्पाद विवरण और मूल्य की जांच करें। Bengali: চিত্রে ক্লিক করে পণ্যের বিবরণ এবং মূল্য অন্বেষণ করুন। Tamil: படத்தை கிளிக் செய்து பொருட்கள் விபரங்களை மற்றும் விலைகளை அடையாளம் செய்யுங்கள். Telugu: చిత్రంపై క్లిక్ చేసి ఉత్పన్న వివరాలు మరియు ధరలను అద్దుబట్టం చేయండి. Kannada: ಚಿತ್ರದ ಮೇಲೆ ಕ್ಲಿಕ್ ಮಾಡಿ ಉತ್ಪನ್ನ ವಿವರಗಳನ್ನು ಮತ್ತು ಬೆಲೆಗಳನ್ನು ಅನ್ವೇಷಿಸಿ. Malayalam: ചിത്രത്തില്‍ ക്ലിക്ക് ചെയ്ത് ഉത്പന്ന വിവരങ്ങളും വിലകളും അറിയൂ. Punjabi: ਚਿੱਤਰ 'ਤੇ ਕਲਿੱਕ ਕਰਕੇ ਉਤਪਾਦ ਦੇ ਵੇਰਵਾ ਅਤੇ ਮੁੱਲ ਦੀ ਜਾਂਚ ਕਰੋ।